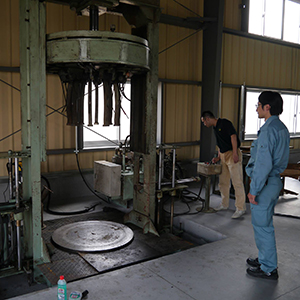 August 19, 2013 – Maverick Japanese distiller Ichiro Akuto has added a new cooperage to his Chichibu Distillery in Saitama Prefecture north of Tokyo.
He explained the decision in a Facebook post today, deciding to buy the "old but good" equipment from a cooperage whose owner had decided to retire and close the business. Akuto built a new building near the distillery and had the equipment installed. The previous owner will teach Chichibu's workers how to make new casks later this year, and the equipment will also be used for repairing older casks.
Akuto opened Chichibu in 2008, and bottled the first single malt from Chichibu in 2011, along with the final single malt from the Hanyu Distillery previously owned by his family. The family sold the distillery in 2000 to new owners who then closed and dismantled it. Ichiro Akuto was able to acquire the final remaining casks of Hanyu after the closing, and bottled them under his "Ichiro's Malt" playing card series to great acclaim from whisky connoisseurs and collectors. His whiskies are distributed through Number One Drinks Company.
For an interview with Ichiro Akuto on his family's sake and whisky distilling history and the Chichibu Distillery, listen to Episode 342 of WhiskyCast.
Links: Number One Drinks Company