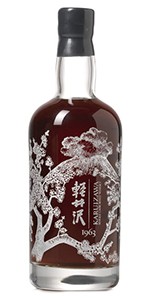 February 7, 2015 – While two rare Macallan single malts led the overall bidding, Japanese whiskies dominated the action at Bonhams' latest whisky auction Friday in Hong Kong. The most recent Macallan Lalique decanter, a 62-year-old expression released in 2013, brought a high bid of HK$325,000 ($41,923 USD), as did the second release in the series, a 55-year-old expression released in 2007. In all, 363 lots went on the block.
There was intense demand for whiskies from the now-closed Karuizawa Distillery in Japan, with the bidding reaching HK$ 250,000 ($32,249 USD) for a 50-year-old Karuizawa distilled in 1963. A 1971 41-year-old Noh series Karuizawa released by Number One Drinks Company in 2013 brought a high bid of HK$ 87,500 ($11,287 USD), while bottlings produced for whisky shows in Tokyo and Taipei also drew interest. A 1968 Karuizawa single cask bottled in 2010 for that year's Whisky Live Taipei brought a winning bid of HK$ 52,500 ($6,772 USD). A 1982 Kawasaki Sherry Cask bottled for Whisky Live Tokyo in 2011 sold for HK$ 8,125 ($1,048 USD), while the 2012 bottling of a 1999 Yamazaki single cask for Whisky Live Tokyo and the Tokyo International Bar Show sold for HK$ 8,750 ($1,128 USD). The 2013 bottling of a 2000 Karuizawa from the distillery's final year for the Tokyo shows went for a high bid of HK$ 15,000 ($1,934 USD).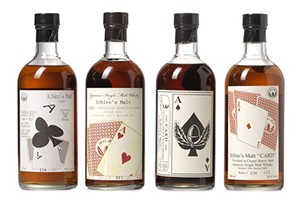 Hanyu single malts from Ichiro Akuto's famous "cards" series also were in demand, with a 4-bottle set of the Aces selling for HK$ 200,000 ($25,799 USD) and a single bottle of the Ace of Spades going for HK$ 81,250 ($10,480 USD). A 5-bottle set featuring four Kings and the "5 of Diamonds" brought a winning bid of HK$ 150,000 ($19,349 USD). A pair of the Jokers went for HK$ 118,750 ($15,318 USD).
There was also demand for Single Malt Scotch Whiskies, with a 50-year-old Glenfiddich distilled in 1937 selling for HK$ 181,250 ($23,380) and a variety of whiskies from closed distilleries, including Port Ellen, Rosebank, Brora, and St. Magdalene.
One American whiskey went on the block – a bottle of Pappy Van Winkle's Family Reserve 20-year-old. It sold for HK$ 17,500 ($2,257 USD).
The next Bonhams auction in Hong Kong is scheduled for May 29, while the next auction in Edinburgh is set for March 11.
Links: Bonhams