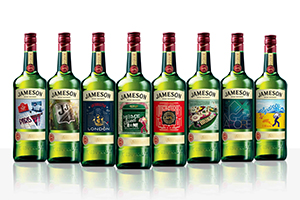 August 14, 2013 – Jameson Irish Whiskey is launching a new series of eight exclusive bottles aimed at travelers, with each bottle in the City Editions series unique to its home airport. Each of the eight bottles has a design featuring the culture of its city, with a postage stamp-inspired label design.
The City Editions series will debut at Amsterdam's Schiphol airport this month at a price of €24.50 ($32.50 USD), followed by launches in  Bangkok, Dublin, London, Moscow, Paris, Singapore, and Sydney. In a news release, Jameson Global Brand Director Daniel Lundberg cited the desire to mesh the whiskey's Irish heritage with its global popularity as the top-selling Irish Whiskey worldwide:
"With the Jameson City Editions, we wanted to celebrate the different cultures and personalities of some of the great cities around the world and we're delighted with the end results. We are hopeful that this special collection and the marketing activity we are activating to support the launch will capture the imagination of international jetsetters and provide them with a unique memento of their travels for them to enjoy with their friends or keep as collectors' items."
Purchasers will be eligible to enter a travel photo competition with photos of their bottle or city, with the winner to receive a travel trunk/liquor cabinet containing bottles from all eight cities and four  additional bottles of Jameson Original.
Links: Jameson