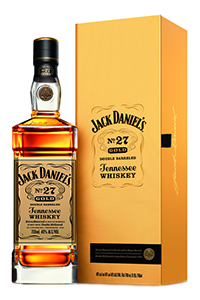 June 18, 2014 – Jack Daniel's is one of the world's best-selling whiskey brands, with nearly 12 million cases sold worldwide in 2013. Now, the Brown-Forman brand is expanding its presence in Asia with a new expression exclusively for that market, where the company reported sales gains of more than 20% in the region last year.
Jack Daniel's No. 27 plays off of the classic "Old No. 7" legacy, but unlike the original, is finished in maple barrels and charcoal-mellowed using the traditional "Lincoln County Process" for a second time following maturation. Currently, Gentleman Jack is the only other Jack Daniel's expression that is charcoal-mellowed twice, both before and after maturation. In a news release, Master Distiller Jeff Arnett said the double-mellowing process works especially well with the maple barrel finishing to create a smoother flavor.
The whisky is being launched initially in Shanghai, China, where Brown-Forman has partnered with the Shanghai Duolun Museum of Modern Art to launch an exhibition of works by four Chinese artists created following their visits to the distillery in Lynchburg, Tennessee.  Pricing for No. 27, which will be bottled at 40% ABV, was not announced. It will be available in China, Hong Kong, and travel retail outlets in Asia.
Editor's note: This story was updated with additional details on market availability.
Links: Jack Daniel's