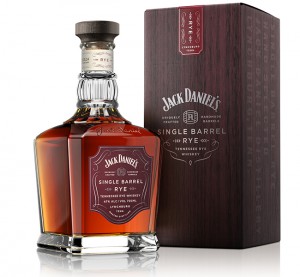 February 10, 2016 – What started out as a quiet experiment at the Jack Daniel Distillery several years ago has now reached maturity with the release of Jack Daniel's Single Barrel Rye. The Tennessee Rye whiskey is being released throughout the United States this month, and will round out the distillery's Single Barrel Collection alongside Jack Daniel's Single Barrel Select and Barrel Proof expressions.
Master Distiller Jeff Arnett started experimenting with rye whiskey recipes in 2010 and 2011 at the Lynchburg, Tennessee distillery before going public in the fall of 2012 with an unaged rye whiskey designed to give consumers a preview. The Unaged Rye release was followed in 2014 by the Rested Rye release, which carries no age statement but was likely matured for two to three years before bottling. The Single Barrel Rye also does not carry an age statement, as is customary with all of the Jack Daniel's whiskies, and is likely to be a bit younger than the flagship Jack Daniel's Tennessee Whiskey. In a news release, Arnett cited the unique character of Rye whiskies, leading to that conclusion.
"You never want to over-barrel a rye whiskey so it was important for us to stay true to the style with grain forward character rather than barrel character while still allowing our barrels to interplay with the whiskey."
All three variations use the same recipe of 70% rye, 18% corn, and 12% malted barley – along with the same yeast as the flagship Jack Daniel's Tennessee Whiskey. The Single Barrel Rye is bottled at 47% ABV (94 proof), and will carry a recommended retail price of $49.99 per 750ml bottle.
The Brown-Forman owned distillery is celebrating its 150th anniversary during 2016, and this is the first of what is expected to be several new whiskies released to mark the occasion.
Links: Jack Daniel's