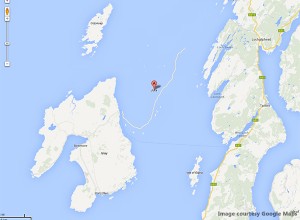 July 13, 2013 – More than a week after initial news reports that Google's online mapping feature had consigned Scotland's Isle of Jura to the same fate as Atlantis, the wreckage of the Titanic, and perhaps even the body of Jimmy Hoffa, Google Maps continues to show the island as underwater.
It's hard to make an island nearly 31 miles long with the Paps of Jura standing nearly 800 meters above sea level disappear beneath the waves, but a check of the Google map for Jura shows the island's main road from the Islay ferry dock to just north of Craighouse…and nothing else.
Obviously, the Isle of Jura is not really underwater. A newsletter from the Jura Distillery this week proves that, and according to news reports, Google Maps engineers are trying to solve the problem. Clicking on the "Satellite" option in the map display shows the island in all of its glory.
However, with only a few hundred year-round residents, clicking on the "Traffic" option doesn't yield much…except for the occasional herd of deer.
Links: Google Map of Jura | Jura Distillery