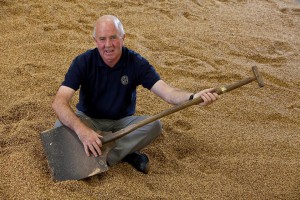 April 2, 2016 – Friends and family gathered at Islay's Kilchoman Distillery today to pay tribute to John MacLellan, the distillery's general manager, who passed away Easter Sunday at the age of 60 following a long battle with cancer. The memorial service for one of the leaders of the island's whisky community came just a few miles away from his birthplace and home in Port Charlotte, and follows an outpouring of condolences and support from around the world.
"John was an Islay boy through and through," said Kilchoman founder Anthony Wills, who recruited MacLellan away from his position as Bunnahabhain's distillery manager in 2010. "He was passionate about whisky, he was passionate about Islay and everything that Islay had to offer," Wills said in a telephone interview Friday during a break from organizing the memorial service.
"Islay was in him…it was in his blood, it was in his veins, and he was very, very proud of that…"
MacLellan was responsible for producing many of Kilchoman's most successful whiskies during his tenure, including the 2011 release of the first 100% Islay barley single malt from an Islay distillery in many years.
Listen to Mark Gillespie's interview with Anthony Wills:

According to Wills, he was equally proud of his family – his wife Lindy, daughter Rosie, and son Sandy. They established a memorial fund in his honor at the Beatson Cancer Charity in Glasgow following John's death with a goal of raising £5,000 ($7,100 USD). As of Saturday evening, donations to the fund from as far away as New Zealand totaled £5,879 ($8,365 USD), reflecting the respect whisky lovers had for MacLellan, who was known as a gentle and modest man open to sharing his knowledge about whisky as well as Islay.
Links: Kilchoman Distillery