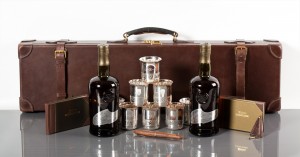 December 13, 2013 – Single malts from Islay led the bidding at the final McTear's whisky auction of the year on December 11 in Glasgow, with a rare Ardbeg package taking the highest bid. The 2007 release of Ardbeg Double Barrel included two single cask bottlings from 1974, along with a bespoke leather shotgun-style case from Purdey and Sons and 8 sterling silver cups from Hamilton & Inches. Only 250 Double Barrels were produced, and #32 in the series went for £6,000 ($9,780 USD).
Runner-up honors went to a 1964 Bowmore 35-year-old single malt bottling that easily outpaced pre-auction estimates with a high bid of £5,000 ($8,150 USD). A rare bottle of Smith's Glenlivet distilled in 1899 and bottled for shipping to Australia in 1912 fetched a bid of £3,400 ($5,540 USD), while bidding for Macallans was led by a 1950 bottling from Gordon & MacPhail at £2,800 ($4,562 USD). Other lots generating interest included bottles of Laphroaig 40-year-old and The Macallan Royal Marriage 1981, which went for £1,900 ($3,096 USD) each.
One item that did not sell was a rare Tomintoul recognized by the Guinness Book of World Records as the "World's Largest Bottle of  Single Malt Whisky." The 105.3 litre bottle was produced for The Whisky Castle and Clockhouse Restaurant in Tomintoul, and has been on display at the Scotch Whisky Experience in Edinburgh for the last year. McTear's had set a pre-auction estimate of between £100,000 and £150,000 for the one of a kind bottle, but it failed to meet the sellers' pre-established reserve price.
McTear's will hold its first whisky auction of 2014 on January 29.
Links: McTear's