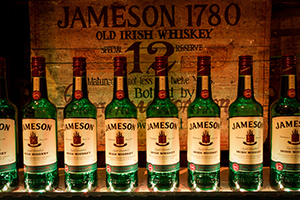 May 15, 2015 – During the "golden age" of Irish Whiskey in the late 1800's, Irish Whiskey was more popular worldwide than Scotch or any other style of whisky. While many factors were responsible for the sharp decline in Irish Whiskey's popularity during the 20th Century, there's no doubt that the current boom in Irish Whiskey sales has sparked a renaissance of distilling in Ireland, with annual exports up 220% since 2003 and growing consistently each year.
Irish Agriculture Minister Simon Coveney and the Irish Whiskey Association announced a new "Vision for Irish Whiskey" plan this week at the Old Jameson Distillery in Dublin. The plan projects at least 26 new distilleries over the next ten years – with several already under construction, and an ambitious goal of tripling the sector's share of the global whisky market from 4% to 12% by 2030. Other key proposals include:
Raising Irish Whiskey exports from the current 6.5 million (9-liter) cases to 12 million by 2020
Doubling those exports between 2020 and 2030
Increasing annual production by 41% by 2025
Increasing whisky-related tourism from 600,000 visitors annually to 800,000 by 2020
Increase whisky sector employment by 30% to 6,500 direct and indirect jobs by 2025.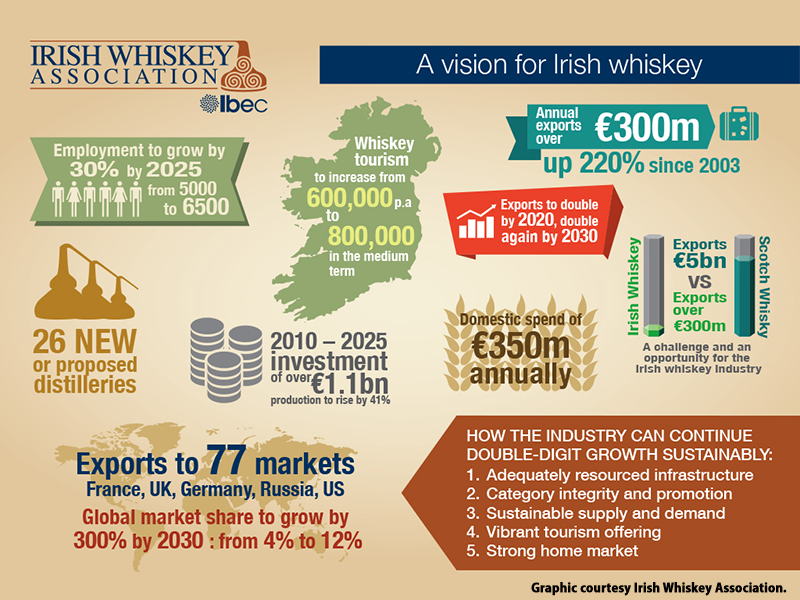 Listen to Mark Gillespie's interview with Irish Whiskey Association chairman Bernard Walsh:

The plan projects total investment of €1 billion ($1.14 billion USD) between 2010 and 2025, including investments already made at the Irish Distillers-owned Midleton Distillery and new projects such as the new Tullamore D.E.W Distillery in Tullamore, the Teeling Whiskey Company in Dublin, and the Walsh Whiskey Distillery in Carlow scheduled to open by the end of 2015.
Editor's note: This story was updated to include audio from an interview with Irish Whiskey Association chairman Bernard Walsh. 
Links: Irish Whiskey Association