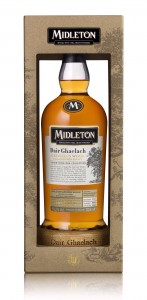 February 24, 2015 – For the first time, Irish Distillers will release a special version of Midleton finished in virgin Irish Oak casks made of trees harvested from sustainably-managed forests. Midleton Dair Ghaelach is the result of a project that began six years ago when Master Blender Billy Leighton and Master of Maturation Kevin O'Gorman led a group of colleagues in trying to produce a whiskey using native Irish Oak.
The wood came from Ballaghtobin Estate in County Kilkenny, where ten 130-year-old Irish oak trees from Grinsell's Wood were harvested in April of 2012. The wood was sent to Spain for drying and coopering, and the resulting casks were filled with a blend of Midleton from ex-Bourbon casks between 15 and 22 years old for almost a year of finishing. Each cask will be bottled separately, with bottling strengths of between 58.1% and 58.5% ABV.
Dair Ghaelach is the first in a series of single pot still Whiskies from Midleton to be finished in virgin Irish Oak. The whiskey will be available in Ireland, the UK, France, Germany, and South Africa with a recommended retail price of $250 USD. There are no plans to make the initial release available in the US.