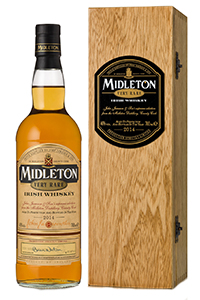 July 15, 2014 – For the first time since Irish Distillers introduced the Midleton Very Rare range in 1984, there's a very noticeable change on the label. After 30 annual releases signed by Master Distiller Barry Crockett, the 2014 edition is signed by his successor, Brian Nation. Crockett retired last year, and the main stillhouse at Midleton Distillery was named in his honor last September.
Brian Nation's first Midleton Very Rare doesn't stray from the tradition Crockett established, using a combination of Single Pot Still and grain whiskeys distilled at Midleton and matured for up to 22 years in lightly charred ex-Bourbon casks. In a news release, Nation described the pressure of living up to his mentor's legacy.
"It is a real honour for me to continue the Midleton Very Rare legacy and to have my name on the label, where Barry's signature once was. I'm very proud of the 2014 edition, as it offers real complexity with a full taste of sweet spice, vanilla, and cinnamon, which lingers before slowly giving way to notes of barley. I am confident that it will provide whiskey fans around the world with the interesting and enjoyable tasting experience that they have come to expect from Midleton Very Rare over the years – and I look forward to hearing what Barry thinks of it too!"
The 2014 Midleton Very Rare release will be available at whisky specialist retailers in Ireland and select European markets, along with the US. Pricing information has not been announced.
Links: Irish Distillers