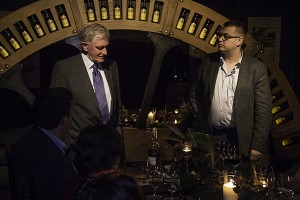 October 24, 2014 – 2014 marks two milestones for the Midleton Very Rare range from Irish Distillers: the 30th anniversary of the very first edition released in 1984 and the first release for Brian Nation as the Master Distiller for Irish Distillers following Barry Crockett's retirement in 2013. Crockett now holds the title of Master Distiller Emeritus, and briefly came out of retirement to team up with Nation to create the most exclusive (and expensive) whiskey ever produced by Irish Distillers, the Midleton Very Rare 30th Anniversary Pearl Edition.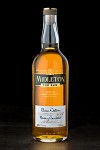 Just 117 bottles were produced, with a recommended retail price of €6,000 ($7,600 USD), with availability limited to retailers in Ireland, the UK, France, Germany, and China. 
Crockett and Nation blended the Pearl from two casks: a 1984 pot still whiskey cask and a 1981 grain whiskey cask that was filled during Crockett's first year as Master Distiller. "I have finished my part of the movement in terms of the overall symphony," Crockett said during an interview at Midleton Distillery during the unveiling of the Pearl. "Brian has taken over, and I think it's very nice to see, as it were, ending and a new phase developing under Brian's mastership." Crockett created the original Midleton Very Rare range in 1984 following a decision by the board of Irish Distillers to revive the Midleton name, which had not been used on a whiskey since the company centered production at the new Midleton distillery in 1975.
Listen to Mark Gillespie's entire interview with Barry Crockett:

While the US market will not be getting the Pearl Edition, Nation confirmed reports that Yellow Spot, another one of the single pot still Irish whiskies from Midleton, will be available in the US starting in January. Yellow Spot was reintroduced in 2012 after the original Mitchell & Sons blend disappeared from the Irish market years earlier, and stems from the days when the Mitchell family blended casks of whiskies from the various distilleries in Dublin and marked them with a spot of paint to denote the recipe before sending them on to pubs and grocers around Ireland.
Brian Nation discusses Pearl and Yellow Spot in this interview with Mark Gillespie:

US pricing for Yellow Spot has not been announced. For more details on the history of Yellow Spot, listen to our interview with Kevin O'Gorman of Irish Distillers in Episode 371 of WhiskyCast.