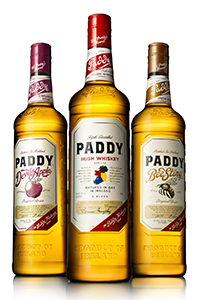 October 1, 2013 – Paddy Flaherty was a legendary Irish Whiskey salesman for the Cork Distilleries Company at the turn of the last century, traveling around Ireland to promote what was then called "Cork Distilleries Company Old Irish Whiskey." The name was just a bit unwieldy for many pub owners, who just referred to it as "Paddy's Whiskey" — and the Murphy family took the hint. They renamed it "Paddy" in 1913 in honor of Flaherty. While Paddy's distribution was limited to Ireland for many years after the Murphys, the Power family, and the Jameson family joined forces to create Irish Distillers in 1966, the brand has been slowly introduced to the U.S. and other export markets.
Now, Paddy is getting new packaging, along with two flavored variants (the first for Irish Distillers). The core expression remains a triple-distilled and triple-blended whiskey with Irish Pot Still whiskey, Irish Grain whiskey, and Irish Single Malt whiskey blended by Master Distiller Billy Leighton. However, the bottle now makes more reference to Paddy as "The Paddy Flaherty Whiskey", while still retaining the traditional map of Ireland on the front label.
Leighton has created two additional variations on Paddy with honey and apple flavorings. The U.S. and France will be the launch market for both expressions, but will have different names and labels for each market. In the U.S., the apple version will be branded as "Devil's Apple," while it will carry the "Spiced Apple" moniker in France. The honey version will be called "Bee's Sting" in the U.S. and "Irish Honey" in France. Both versions will be available in each country starting this month.
Links: Paddy