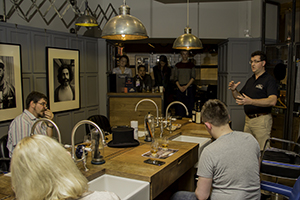 November 14, 2014 – Stuart Harvey has spent the last 11 years at Inver House as the Master Blender for the company's entire range of Scotch whiskies, including four different single malts and the Hankey Bannister, Catto's, and Inver House blends. That's a lot of different styles of whisky to keep track of, including award-winners such as the Old Pulteney 21-year-old single malt and the Hankey Bannister 40-year-old blend.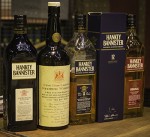 WhiskyCast's Mark Gillespie had the chance to sit down with Stuart Harvey over dinner during an Inver House press trip for a group of whisky writers in October of 2014. During this extensive interview, Stuart discussed his development as a blender, along with the unique characteristics of each of Inver House's five malt whisky distilleries (Old Pulteney, Balblair, Knockdhu, Speyburn, and Balmenach), and the differences between blending for a single malt and for a blended Scotch whisky. The entire 40+minute interview is available here.
Editor's note: This interview was conducted during a press trip in which Inver House Distillers covered travel expenses for its guests. However, WhiskyCast's Mark Gillespie retained full editorial control over the content.
Links: Inver House | Hankey Bannister | Old Pulteney | Balblair | anCnoc | Speyburn