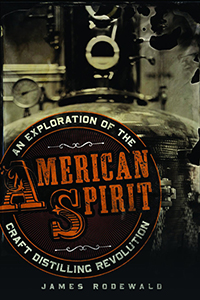 October 12, 2014 – Veteran journalist and former Gourmet Magazine drinks editor James Rodewald spent more than a year visiting distillers around the United States for one of the first books covering the boom in craft distilling. "American Spirit: An Exploration of the Craft Distilling Revolution" isn't a how-to guide, but documents the stories of individuals who thought they could make whiskies, brandies, gins, and vodkas just as well as the big corporate distillers — if not better.
Many of the subjects Rodewald profiles are familiar ones to WhiskyCast listeners, including Chip Tate, the Erenzos of Tuthilltown, Dave Pickerell, and other whisky distillers. During our conversation recorded on September 30, 2014 at The Dead Rabbit in New York City, James discussed how he found some of his subjects by asking other craft distillers whom they most respected, and discovered distillers he'd never heard of in years of covering the spirits industry. You'll discover some of those distillers in this complete version of the interview (an edited version appears in Episode 501 of WhiskyCast).
"American Spirit" is available to purchase in the WhiskyCast Bookstore powered by Amazon.com.