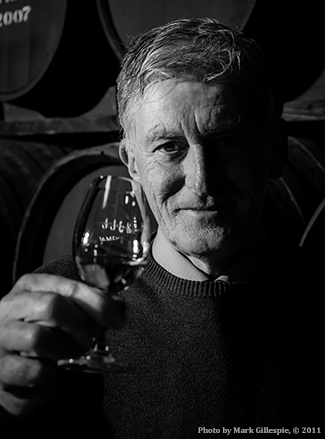 July 17, 2013 – Retired Irish Distillers master distiller Barry Crockett was presented with the International Spirits Challenge's 2013 Outstanding Achievement Award Wednesday night during the ISC's annual awards presentation in London.
Crockett officially "retired" earlier this year after 47 years with the company, but has been helping in a consulting role during the past few months. Irish Distillers will hold a special celebration honoring Barry Crockett on September 4th in conjunction with the dedication of Midleton Distillery's stillhouse expansion.
In a news release, Irish Distillers Chairman and CEO Anna Malmhake praised Crockett's key role in the rebirth of Irish Whiskey:
"I can't think of anyone more deserving than Barry Crockett to receive this award for Outstanding Achievement. Barry has played such an important part in Irish Distillers' success and his contribution to the Irish whiskey category is unrivalled. Barry will be missed around the distillery by us all but with Brian Nation now taking over after years of mentoring from Barry, we are confident that our Irish Whiskeys will continue to achieve great acclaim from the industry in the years to come and will be a true legacy to Barry and his ancestors."
The Midleton Barry Crockett Legacy expression released in 2011 won an ISC Gold Medal and Best in Class award in the 2013 competition.
The ISC also awarded trophies for whiskies scoring 90 points or higher from the judging panel:
Chivas Regal 18
The Famous Grouse 40
Glenmorangie Signet
Invergordon 50th Anniversary Single Grain
Kingdom 30 Years Old Blended Scotch
Hibiki 21
Knob Creek Rye
Suntory was named Distiller of the Year for the third time in four years for its range of Japanese whiskies. following previous wins in 2010 and 2012.
A complete list of medal winners is available at the ISC's web site.
Links: Irish Distillers | Midleton | Suntory