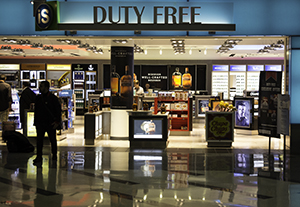 October 21, 2014 – Airports are investing a lot more money in travel retail these days, largely because the rent and revenue from retail sales can account for between 20 to 55 percent of an airport's annual revenue. In other words, think of an airport as a shopping mall with a really big parking lot.
One of the questions we receive most frequently from community members goes along the lines of "I'm traveling through X airport…what whiskies should I look for at the duty-free shop?" Of course, we also hear "can I really save money at the duty-free shop?" and "why don't US airports have any decent duty-free shops?"
Michael Payne can help answer many of those questions. Payne is the executive director of the Washington, DC-based International Association of Airport Duty Free Stores, and his members include most of the major airport retail operators around the world. Payne addressed the state of the travel retail market at this year's World Whiskies Conference in New York City, and talked with WhiskyCast's Mark Gillespie after his session.
If you have suggestions for airports with good duty-free whisky selections, we'd love to share them with other WhiskyCast community members! Just add a comment to this story with your recommendations.
Links: International Association of Airport Duty Free Stores