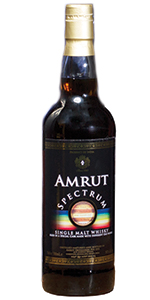 November 18, 2015 – The term "5-wood" is normally used only by golfers, but it describes the latest release from India's Amrut distillery, and technically, Amrut Spectrum could actually be considered a six-wood whisky.
Here's why: the Indian single malt was originally matured in Amrut's Bangalore warehouse in ex-Bourbon casks for three years. Then, in an experiment that could only be described as Frankenstinian in nature, five separate finishing casks were created at an undisclosed location in Europe from new American oak, new Spanish oak, and new French oak, along with previously used Pedro Ximenez and Oloroso. Staves from each cask were then removed and replaced with staves from each of the other four casks to create five complete casks with five different types of wood in each one. The barrels were then taken to Bangalore, where the whisky was filled into them to mature for an additional three and a half years before bottling.
The final bottling at 50% ABV was taken to Sweden, where Malt Whisky Yearbook editor Ingvar Ronde and members of the Biskopen Gustavs Maltklubb whisky club wrote the distillery's official tasting notes. In an Amrut news release, Ronde was quoted as calling it one of the most innovative whiskies he's tried. "This is pushing boundaries and whisky making at its best and I love it!" he said.
1,000 bottles will be available through whisky specialist retailers in Europe, Australia, New Zealand, Taiwan, and Canada with a recommended retail price of £100 GBP ($153 USD) per 70cl bottle. At present, there are no plans to make it available in the United States.
Editor's note: This story was updated to include additional information from Amrut confirming that the whisky was completely matured in Bangalore. Amrut has matured other expressions for a period of time in Europe after initial maturation in Bangalore, but it was unclear originally whether that was the case with Spectrum.
Links: Amrut