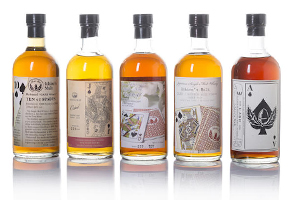 May 29, 2015 – A royal flush beats every other hand in poker, and a royal spade flush of Ichiro's Malts beat all of the other lots in bidding at the Bonhams auction of rare whiskies, Cognac, and wines in Hong Kong on May 23. The 5-bottle set made up of the 10, Jack, Queen, King, and Ace of Spades sold for HK$343,000 ($44,200 USD) including the buyer's premium. The five malts are part of Ichiro Akuto's legendary series of Japanese single malts named for playing cards.
The runners-up honors in bidding went to two different whiskies. A 57-year-old Macallan Lalique decanter and a 50-year-old Yamazaki both sold for HK$306,250 ($39,500 USD). The auction was dominated by Japanese whiskies, as is usually the case at Bonhams auctions in Hong Kong, with a 1981 Karuizawa Sakura bottle selling for HK$134,750 ($17,380 USD) and numerous lots of whiskies from Suntory, Nikka, Mars, and other Japanese distillers going on the block.
The next Bonhams whisky auction is scheduled for June 10 in Edinburgh, Scotland.
Links: Bonhams