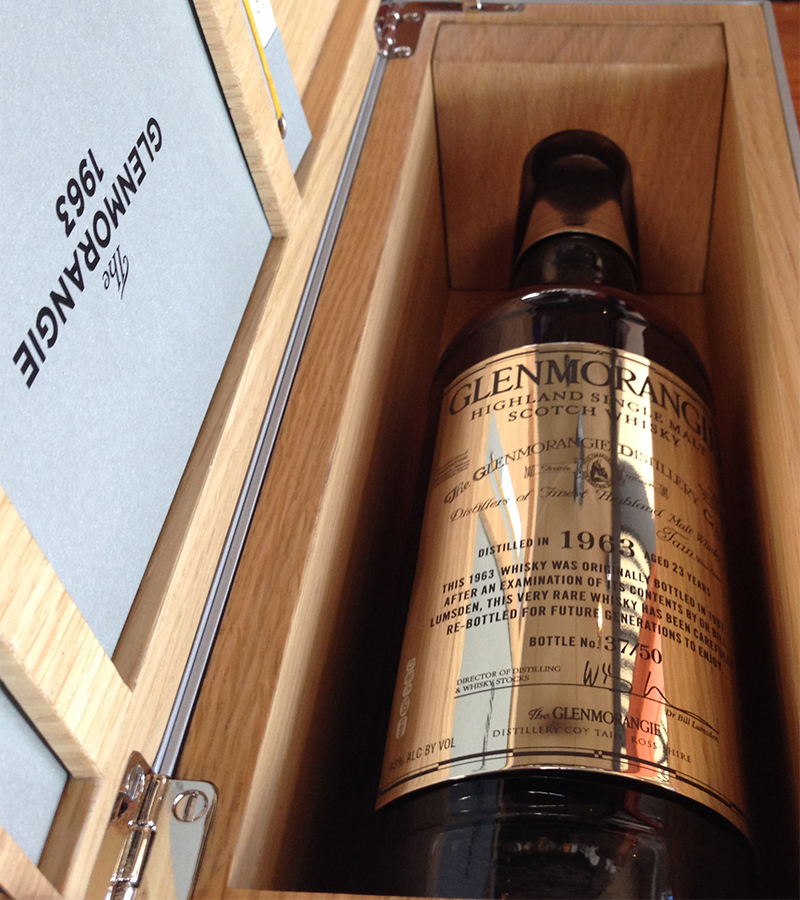 February 15, 2014 – With only 50 bottles worldwide in the re-release of Glenmorangie 1963, it's likely that most have (or will be) snapped up by private collectors. However, at least one will be available to the average whisky lover — the average whisky lover willing to spend $550 for a dram. Reserve 101, a whisky bar in downtown Houston, has acquired one of the 50 bottles, and owner Mike Raymond added it to the whisky list today following a news conference with Glenmorangie's Dr. Bill Lumsden.
"As of now, we have not heard of any other bar or restaurant in the world that has a bottle," Raymond told WhiskyCast's Mark Gillespie in a telephone interview. "It's going to be $550 for a dram, and we do ounce and a half pours, so we do a little bit heavier than the normal pour…honestly, I think that at $550 it's a steal."
Reserve 101 has Bottle #37 of the 50 that were released at the end of 2013. As previously reported here at WhiskyCast.com, the 1963 vintage was first released in 1987, but the 50 bottles were put into a corner of Glenmorangie's Broxburn warehouse in Scotland and forgotten. They were discovered when the company moved out of Broxburn a couple of years ago and refilled into new bottles with a price of $2,750 each. The 1963 vintage is believed to be one of the earliest "finished" whiskies, having been filled into Oloroso Sherry casks after their original maturation in ex-Bourbon barrels.
Raymond originally had hoped to acquire a bottle of the Glenmorangie Pride 1981 release for Reserve 101 last year, but there were no bottles available in the United States. "About that time, I started hearing rumors about the 1963," he said. His initial inquiries were met with silence, but a couple of months later, he received a phone call with details on the 1963, and a price in the same range as what he had been planning to pay for a bottle of the Pride. That didn't guarantee that Moet Hennessy USA would be able to get a bottle into Texas so that Raymond could order it. Several weeks ago, he received word that one bottle would be available in Houston and that he would get first crack at it.
"It would not surprise me that we sell it out pretty quick," Raymond said. "At an ounce and a half pour, you're only talking about 18 shots in a bottle."
Links: Reserve 101 | Glenmorangie