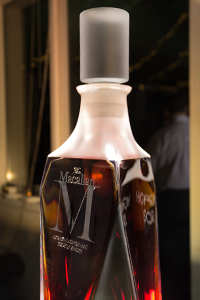 January 20, 2014 – Hong Kong charities will benefit from Saturday's auction of a rare six-liter decanter of The Macallan M to the tune of $4.9 million HKD ($628,000 USD), the highest price ever paid for a whisky at auction. The auction at Sotheby's Hong Kong gallery brought interest from bidders around the world, and broke the current Guinness world record of $460,000 set in 2010 when a Lalique decanter of 64-year-old Macallan was auctioned at Sotheby's in New York City to benefit Charity: Water. The winning bidder's name was not released.
The decanter was one of four six-liter decanters created by Lalique for The Macallan M and designed by Fabien Baron, and was the only one that will be available to the public. Edrington Group, the owner of The Macallan, will retain two for the company's archives, and the remaining one was acquired privately by an Asian investor.  The super-size decanters are identical in design to those produced for The Macallan M's retail bottlings, and the one auctioned in Hong Kong was the only one engraved with the signatures of Macallan whisky maker Bob Dalgarno, Fabien Baron, and Lalique's Silvio Denz.
The record must still be certified by Guinness World Records, a process that can take up to a year and requires affidavits from witnesses to the auction. Until the Hong Kong results are certified, the $460,000 New York auction price will continue to be considered the official world record.
Links: The Macallan | Sotheby's Hong Kong