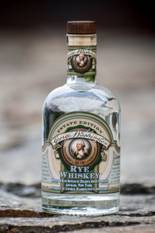 June 4, 2013 – Hillrock Esate Distillery, the Ancrim, New York-based farm distillery, is partnering with George Washington's Distillery at Mount Vernon in Virginia to produce a retail version of George Washington's Rye Whiskey. The historic distillery produces a limited amount of rye whiskey from Washington's original recipe each year for sale at Mount Vernon's gift shops, and demand for the whiskey is much greater than what the distillery can produce.
Dave Pickerell is the common bond between the two distilleries, serving as Master Distiller at both Mount Vernon and Hillrock Estate. He's using the same recipe at Hillrock Estate to create a pot-distilled rye whiskey with a small amount of Mount Vernon distillate added in to create "George Washington's Rye Whiskey – Estate Edition". The new whiskey will be available at retailers and bars in New York and Chicago, and through selected online retailers.
Hillrock Estate is also releasing its first single malt whiskey as well. Hillrock Estate Distillery Single Malt Whiskey uses the estate's organically-grown barley malted on-site. The distillery claims to be the only one malting its own grain grown on-site. The single malt whiskey is bottled at 48.2% ABV, and will be available at the distillery and through New York retailers. h a number of online retailers. A portion of the sales from the Estate Edition will go to support educational programs at Mount Vernon, and the distillery there will continue to produce whiskey to be sold at Mount Vernon as "George Washington's Rye – Limited Edition".
Hillrock Estate plans an open house on June 15 to showcase both whiskies, along with its initial release, a solera-matured Bourbon.
Links:  Hillrock Estate Distillery | George Washington's Distillery