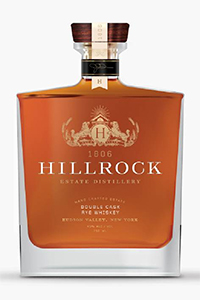 August 20, 2013 – Hillrock Estate Distillery plans to release a "grain to glass" rye whiskey on September 24, using organically grown rye cultivated at the estate. The whiskey was double-matured, with the second maturation coming in American white oak casks seasoned for two years before assembly and filling. In a news release, Master Distiller Dave Pickerell said the air seasoning helped eliminate bitter tannins often present in kiln-dried new oak barrels.
"We chose the Double Cask aging process to balance the spicy rye notes with a mellow sweetness. Our rye whiskey clearly expresses Hillrock's signature clove and cinnamon flavors, along with traditional rye spices complemented by mint, caramel and butterscotch." 
Double Cask Rye is being bottled as a single cask whiskey, and will be available at retailers and bars in New York. In addition to growing its own grain, Hillrock Estate also does its own floor malting and bottling on the estate in addition to distillation and maturation. The Ancram, New York distillery will hold an open house on September 21 with tours and samplings.
Links: Hillrock Estate Distillery