March 13, 2013 – Highland Park's latest expression in the Valhalla Collection was unveiled Tuesday (March 12) during a global launch party at The Foundry in New York City. Loki is the second single malt in the Valhalla Collection following the 2012 release of Thor, and will be available at select whisky retailers and through the Highland Park web site. The Valhalla Collection takes its inspiration from the ancient Norse gods worshipped by the Vikings who landed in the Orkney Islands centuries ago.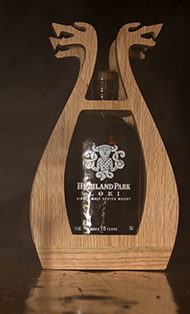 "Loki is an interesting character," says Highland Park Global Marketing Manager Gerry Tosh. "What we're trying to do is replicate the character himself into the flavor of the whisky. Thor is this big brute of a man, the god of thunder and the god of sky and the god of lightning…he's not the world's cleverest person, he hits your palate quite firmly, he wants to make sure you know he's there, but he's a good guy so there's a wonderful  gentle sweetness at the end which rounds Thor off. Loki, because he's the baddie, he's a shapeshifter, he's constantly changing and evolving."
Highland Park's longtime whisky maker, Max McFarlane, created Loki from a combination of Spanish sherry oak casks and heavily peated casks. The 15-year-old Loki is bottled at 48.7% ABV, and will come in the same wooden frame as Thor.
Plans for the final two whiskies in the Valhalla Collection series are still being determined. For more on this story, listen to Episode 416 of WhiskyCast or the entire interview with Gerry Tosh on the WhiskyCast In-Depth page.
Links: Highland Park | Valhalla Collection