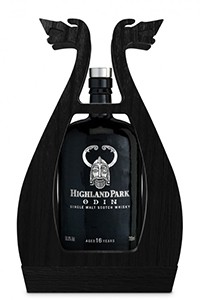 February 16, 2015 – After four years of annual releases, Highland Park has completed its Valhalla Collection of limited-edition single malts with the release of Odin. As with the previous Thor, Loki, and Freya editions, Odin is a 16-year-old single malt bottled at cask strength (55.8% ABV).
The Valhalla Collection honors Orkney's ancient links to Nordic mythology, in which Odin was regarded as the father of all other Gods. While the Orkney Islands were originally settled by the Picts, historians say Vikings invaded the islands many times before finally annexing them to Norway in 875 AD. Scotland finally gained control of the islands in 1468.
Highland Park Odin will be available in limited quantities at whisky specialist retailers in Europe and the UK, as well as the Highland Park Distillery on Orkney, with a recommended retail price of £180 GBP ($277 USD). A US release (750ml bottles) is expected during March, according to Stephanie Ridgway of Edrington Americas.
Editor's note: This story was updated with new information on the US release for Odin. 
Links: Highland Park