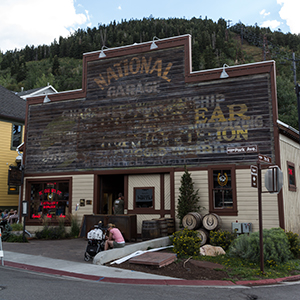 January 10, 2015 – High West, the Park City, Utah-based whiskey distiller and blender, is updating all of its whiskey labels to include more details on the sources of the spirits used in each expression. High West has been distilling whiskey since 2009 at its own distillery and restaurant located in the center of the ski resort community east of Salt Lake City, but many of its expressions use whiskey sourced from MGP-I in Lawrenceburg, Indiana and other distilleries, including the 1792 Barton Distillery in Bardstown, Kentucky.
While High West founder David Perkins has been open about his use of so-called "sourced" whiskey in many of his products, he told WhiskyCast's Mark Gillespie in an interview for this week's episode that he wanted to make it "crystal-clear" for consumers. "We've always been up-front about it…it hasn't always been on our labels, but it's been on the website or we talk about it," he said. "The consumer deserves to have their questions answered, and we're happy to answer them…I think it's good to have transparency in the industry."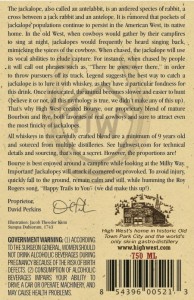 While several of High West's new labels are still being reviewed by the US Treasury Department's Tax & Trade Bureau in an approval process that can take 90 days or longer, the distillery received approval in December on new labels for Bourye and American Prairie (formerly known as American Prairie Reserve). The Bourye rear label (shown at left) uses the language "All whiskeys in this carefully crafted blend are a minimum of nine years old and sourced from multiple distilleries. See highwest.com for technical details and sourcing, that's not a secret. However, the proportions are!" The Bourye web page at High West's site describes all four whiskies used to make the blend, along with their sources and mashbills. Three come from MGP-I, with the fourth from 1792 Barton. According to Perkins, the new labels will be phased in as the TTB approves them, with plans to have all of the new labels into the marketplace within six to eight months.
High West's move comes as other US whisky producers have been criticized for not disclosing the source of their whiskies on labels as required by federal law when the distiller and bottler are in different states. Iowa-based Templeton Rye is facing a lawsuit in Chicago filed by a consumer for not disclosing that its whiskey is distilled at MGP-I in Indiana. Templeton received TTB approval in October for new labels carrying "Distilled in Indiana" that are now being used on shipments of Templeton Rye.
Links: High West | Templeton Rye