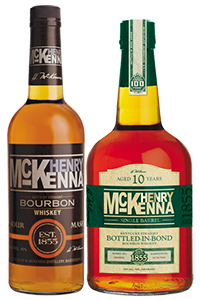 July 30, 2013 – Heaven Hill plans to expand distribution of its Henry McKenna range of Bourbons, and is giving the namesake whiskey and the Bottled-in-Bond Single Barrel version new packaging.
The whiskeys are named after Henry McKenna, who left Ireland for the U.S. in 1837 and used his family's whiskey recipe when he opened his distillery in Fairfield, Kentucky in 1855. The standard 40% ABV version of Henry McKenna gets a new brown label with modern graphics describing McKenna's history, while the Single Barrel version gets an update of its traditional green labels. The 10-year-old Single Barrel is the only double-digit vintage Bottled-in-Bond Single Barrel Bourbon available, and carries a recommended retail price of $29.99 USD. The standard version retails for around $15.99 USD per 750ml bottle, and is also available in 375ml, 1 liter, and 1.75 liter bottles as well.
The new packaging comes as Heaven Hill prepares to expand availability of the Henry McKenna whiskies outside of the Mid-Atlantic region of the U.S., which has been the traditional stronghold for the brand.
Links: Heaven Hill