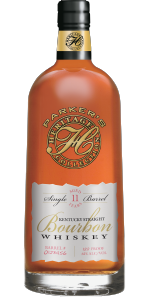 July 19, 2017 – Wth Parker Beam's passing in January of complications from ALS, this year's release of Heaven Hill's annual Parker's Heritage Collection whiskey takes on a new meaning. The eleventh release in the series will be out in September, and will be an 11-year-old single barrel Bourbon produced with barrels from some of Parker Beam's favorite warehouses in Deatsville, Kentucky.
"We have six different warehouse locations," said Heaven Hill Master Distiller Denny Potter in a telephone interview. "It was certainly Parker's favorite location…he picked a lot of good barrels out of that, so we thought that would be the best thing for us to do is to do the same thing, try to pick some really good barrels out of the Deatsville warehouse site, which is not a hard thing to do…but it was certainly in honor of him as well." The Deatsville warehouses are located on the site of the old T.W. Samuels Distillery along Deatsville Road about halfway between Clermont and Bardstown in Nelson County.
As with all of the Parker's Heritage Collection releases since 2013, Heaven Hill will make a donation for each bottle sold to the ALS Association in Parker Beam's honor. When the company's longtime master distiller was diagnosed with ALS in 2o13, Heaven Hill established the "Parker Beam's Promise of Hope Fund" to raise funds for ALS research and patient care. Since then, the annual release of Parker's Heritage Collection whiskies has raised more than $500,000 for the ALS Association.
The 2017 edition is bottled at 61% ABV (122 proof) with no chill-filtering, and will carry a recommended retail price of $129.99 when it reaches retailers in September. Previous editions have included the "Promise of Hope" Bourbon, along with a wheat whiskey, a straight malt whiskey, and last year's dual bottlings of a pair of 24-year-old Bourbons.
Links: Heaven Hill