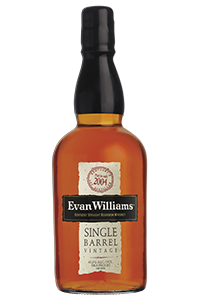 January 14, 2014 – Heaven Hill's annual release of Evan Williams Single Barrel Bourbon is now in its 19th year with the release of the 2004 vintage this week. The 2004 edition's barrels were filled under the supervision of Master Distillers Parker and Craig Beam and matured in rickhouses at Heaven Hill's maturation warehouses in Bardstown, Kentucky, before bottling at around 10 years of age. While the proof will remain consistent (43.3% ABV), the bottling dates will vary slightly based on barrel selection and the length of time it takes to bottle each year's edition.
This year's vintage will have a unique flavor compared to previous vintages, according to Parker Beam. In a news release, he described the profile he was looking for in selecting the barrels for the 2004 edition.
"For this 2004 vintage, we went with a character that is maybe a bit more assertive and bold than in years past, as consumer tastes seem to be leaning more toward robust whiskeys.  We therefore have selected barrels that sit a bit higher up in the warehouses where the temperature gradients over the 9 or 10 years of aging were a bit more extreme."
In 2013, Evan Williams Single Barrel was named to the Spirit Journal's Hall of Fame, and has won numerous awards over the years. The 2004 vintage will be available throughout the US, with a recommended retail price of $26.99.
Links: Evan Williams | Spirit Journal