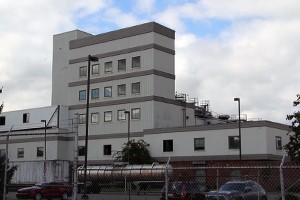 June 28, 2015 – While the exact timetable hasn't been set, Heaven Hill is planning the third phase in its expansion of the Bernheim Distillery in Louisville in the past seven years. The second phase completed in 2014 added four new fermenters and brought the distillery's capacity to 300,000 barrels a year, which is equal to 19.8 million gallons based on 66 proof gallons per standard barrel. The next phase is expected to double that capacity, according to Denny Potter, who doubles as Bernheim's manager as well as Heaven Hill's co-master distiller. That phase is expected to include new mash tuns, an additional column still and "doubler" style pot still, and will require expanding the current distillery building into the facility's parking lot.
Heaven Hill acquired the distillery in 1999 from Diageo following the 1996 fire that destroyed Heaven Hill's original distillery in Bardstown. Spirit distilled at Bernheim is taken by tanker truck to the company's Bardstown campus for filling into barrels and maturation in the warehouses Heaven Hill owns around the region, as well as blending, bottling and distribution once the whiskey is ready.  The Bernheim expansion will require additional work at the Bardstown campus, according to Heaven Hill CEO Max Shapira. "Of course, that means you'd have to build additional warehouses for stock," he said, noting that the family-owned company already has nearly 1.2 million barrels of whiskey aging in its warehouses and that may not be enough to meet future demand.
"It's almost – not quite 25 percent of the world's supply, and frankly, we don't know if we've got enough. It's a difficult thing…the category is exploding both domestically and around the world…and as I say, despite the growth we've had, if you go anywhere around the world…you could be in Buenos Aires, Sydney, Australia, London, England, or wherever…if you go to your hotel bar or restaurant or whatever and ask for a whiskey and water or whatever, 99 times out of 100 you're likely to get Scotch. Great product, Scotch is…no question about it, but all we have to do to turn that 99 times out of 100 into 96 times out of 100…Scotch people will continue to do great, but we won't have enough whiskey to satisfy that demand for a long time to come."

Heaven Hill CEO Max Shapira
In fact, there are already signs that the industry may not be satisfying the global demand. US Customs Service data for March (the most recent month available) shows a decline of 5.5% in Bourbon and Tennessee Whiskey exports from March of 2014, while exports of other American whiskies (mostly flavored and non-Bourbon craft whiskies) nearly doubled from 241,555 proof gallons to 428,479 (a 92.6% increase). The report released by the Distilled Spirits Council of the United States shows Bourbon and Tennessee Whiskey exports in March of this year totaled 3,225,230 proof gallons, compared to 3,271,432 in the same month during 2014. Exports of Bourbon and Tennessee Whiskey to the UK, France, Germany, Japan, The Netherlands, South Africa, South Korea, and Singapore all declined during the first quarter of 2015 compared to the previous year. Exports to Australia, New Zealand, and Spain showed gains during the quarter.
Last month, Heaven Hill was forced to change the usual distribution pattern for its Evan Williams Single Barrel Bourbon, which is distilled at Bernheim along with all of Heaven Hill's other whiskies. Traditionally, each annual release came from whiskey distilled around 10 years earlier, including the release of the 2005 Vintage earlier this year. However, a combination of high demand and short supplies of the 2005 whiskey forced the company to release the 2006 Vintage in May – about seven months earlier than usual, and company officials admit that the move will have an impact on the long-term plans for the brand while not providing any specifics on future releases.
While the next Bernheim expansion will take up a significant portion of the facility's parking lot, the distillery is landlocked to a certain extent. It's located in a mixed neighborhood of residential and industrial use, and is bordered to the west by Brown-Forman's Dixie Highway distillery and corporate headquarters, homes to the south, other industrial use on the north and maturation warehouses on the east side. That would appear to make future significant expansion of the distillery difficult, but Shapira said there are no plans at the time to build a new distillery on the Bardstown campus while admitting that "anything's possible."
Links: Heaven Hill | Distilled Spirits Council of the US