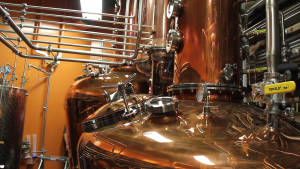 March 18, 2016 – After winning the American round as "Distiller of the Year" last fall, Heaven Hill Distillers was named the global winner in Whisky Magazine's annual Icons of Whisky Awards Thursday night in London. The Kentucky-based family-owned company was selected over Scotland's Tomatin Distillery and Japan's Nikka Whisky by a panel of judges led by Whisky Magazine editor Rupert Wheeler. The awards were presented at Whisky Magazine's annual awards dinner in London following the Whiskies & Spirits Conference and on the eve of Whisky Live London, along with the annual World Whiskies Awards. Winners were selected from the regional rounds previously announced for the U.S., Scotland, and the "Rest of the World" encompassing all other whisky-producing nations."
Heaven Hill also won World Whiskies Awards for Pikesville Rye ("World's Best Rye Whiskey") and Bernheim Original Wheat Whiskey ("World's Best Wheat Whiskey"), and the Parker's Heritage Collection Malt Whiskey was named Best American Grain Whiskey. Heaven Hill spokesman Josh Hafer credited the company's success in this year's competition to the work of Master Distiller Emeritus Parker Beam and Co-Master Distillers Craig Beam and Denny Potter. "Parker really laid the groundwork for this…certainly, you see in Bernheim the impact that Craig had, that was his creation – the wheat whiskey, and then Denny had a large hand in developing Pikesville just this year, and of course, the malt whiskey…we've had that malt whiskey put away for eight to ten years now, it's a wonderful whiskey that appreciates the contributions that Parker made to this industry," he said in a telephone interview.
Independent bottler Douglas Laing & Co. was named Brand Innovator of the Year, while Seattle's Westland Distillery was named Craft Whisky Producer of the Year. Dr. Bill Lumsden of Glenmorangie and Ardbeg was named Master Distiller/Master Blender of the Year, and Koichi Nishikawa of Nikka's Yoichi Distillery was named Distillery Manager of the Year. The Teeling Whiskey Company in Dublin was named Visitor Attraction of the Year, while Stuart Cassells of The Famous Grouse Experience at Glenturret Distillery recieved Visitor Attraction Manager of the Year honors.
In the categories for brand ambassadors, Amrut's Ashok Chokalingam was named World Whisky Brand Ambassador of the Year, Laphroaig's Simon Brooking Scotch Whisky Brand Ambassador of the Year, Tullamore D.E.W.'s John Quinn Irish Whiskey Brand Ambassador of the Year, and Heaven Hill's Bernie Lubbers received American Whiskey Brand Ambassador of the Year honors.
Dublin's Celtic Whiskey Shop was named the Single Outlet Retailer of the Year, while France's La Maison du Whisky took honors among multiple-outlet retailers. DFS Group's whisky shop at Changi Airport in Singapore received Travel Retailer of the Year, Master of Malt Online Retailer of the Year, and Sainsbury's was named Supermarket Retailer of the Year.
Whisky Magazine also named former Suntory chief blender Koichi Inatomi and John Teeling, founder of Ireland's Cooley Distillery and the Great Northern Distillery, to its Hall of Fame. The induction follows last month's induction of Heaven Hill CEO Max Shapira and Brown-Forman Master Distiller Chris Morris at the Whiskies & Spirits Conference in New York City. The Hall of Fame was created several years ago to replace the magazine's annual Lifetime Achievement Awards.
A list of winners and the short-listed nominees is available at Whisky Magazine's web site, along with winners from previous years.
Editor's note: This story was edited to include comments from Heaven Hill spokesman Josh Hafer. 
Links: Icons of Whisky Awards