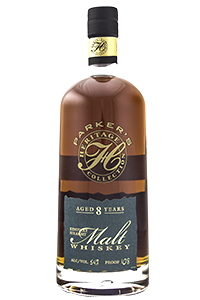 August 28, 2015 – For the third consecutive year, Heaven Hill plans to donate part of the proceeds from the annual Parker's Heritage Collection whiskey to fight Amyotrophic Lateral Sclerosis, better known as "Lou Gehrig's Disease." The Bardstown, Kentucky-based distiller will release the 2015 edition of the Parker's Heritage Collection series in September, with $5 from each bottle of the 8-year-old Kentucky Straight Malt Whiskey to be donated to the ALS Association's "Parker's Promise of Hope Fund." The fund was established in 2013 after Parker Beam, Heaven Hill's longtime master distiller, was diagnosed with ALS. Parker remains Heaven Hill's Master Distiller Emeritus, though he has stepped aside from day-to-day responsibilities at the company. The last two editions of the Parker's Heritage Collection releases have helped raise nearly $500,000 for ALS treatment and research programs.
This year's whiskey is a rarity for Heaven Hill and Kentucky distillers. It's not quite a single malt, with a mashbill of 65% malted barley and 35% corn distilled at the company's Bernheim Distillery in Louisville and matured for eight years on the 5th and 7th floors of Heaven Hill's Rickhouse Y in Bardstown. Craig Beam, Parker's son and co-master distiller, put the barrels into Rickhouse Y in 2006 as an experiment. Denny Potter, named earlier this year as co-master distiller, selected the final 141 barrels for bottling. The whiskey was bottled without chill-filtering at 54% ABV.
The 2015 edition of Parker's Heritage Collection will carry a recommended retail price of $99.99 per 750ml bottle.
Links: Heaven Hill | Parker's Promise of Hope Fund