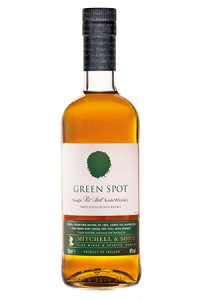 January 7, 2014 – For years, Irish whiskey fans have made it a point to pick up a bottle or two of Green Spot Irish Whiskey at the duty-free shops in Irish airports as they head home. The classic single pot still whiskey has rarely been available outside of Ireland, but Irish Distillers plans to start sending Green Spot to the US starting this spring. In addition, the previously announced North American launch of Redbreast 21 Year Old will also take place at the same time. As reported in Episode 445 of WhiskyCast, Redbreast 21 was introduced last September at Whisky Live Paris, and has been available in limited amounts in Ireland and France since then.
Green Spot was created by the Dublin-based wine and spirits merchant Mitchell & Sons, and gets its name from the spot of green paint that appeared on casks of the whiskey in Irish pubs, back when merchants bought bulk whiskey from distillers and blended it for distribution to pubs and grocers. Green Spot was one of several whiskies named for their paint spots, including Blue Spot, Red Spot, and Yellow Spot – which was revived by Irish Distillers in 2012.
Green Spot has traditionally been produced by Irish Distillers at Midleton in cooperation with Mitchell & Sons, and is part of the Single Pot Stills of Midleton range of Irish whiskeys. The range was launched in 2011, and has expanded over the last three years to include additional expressions of Powers and the new Redbreast 21, along with the Barry Crockett Legacy and Yellow Spot.
For Mark Gillespie's tasting notes on Green Spot, visit the Tasting Notes section of WhiskyCast.com. Tasting notes for Redbreast 21 will be available soon.