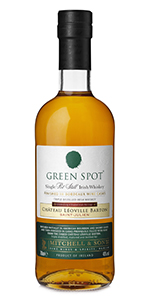 June 5, 2015 – The much-rumored new version of Green Spot has been unveiled, and it combines the heritage of the Irish Whiskey brand with an Irish family's adventure into the Bordeaux region of France. Green Spot Château Léoville Barton is finished in Bordeaux wine casks from the château owned by Anthony and Lillian Barton, descendants of Thomas Barton, who became a wine merchant in France after emigrating from Ireland in 1725. The single pot still whiskey is traditionally matured at Midleton Distillery using a combination of ex-Bourbon and ex-Sherry barrels, then finished in the Bordeaux barrels for between 12 and 24 months before blending. 
"We are delighted to collaborate with the Midleton Distillery to create the new Green Spot Château Léoville Barton," Anthony Barton said in a news release. "Having been born in Ireland, whiskey is very close to my heart, and wine has been in my family for hundreds of years, so it is an enormous privilege to be able to merge the two now and share our heritage with the Mitchell family with such an exceptional result."
The new whiskey is bottled at 46% ABV and will be available in Ireland, the UK, France, and Germany starting this month, with a recommended retail price of $65 USD for 700ml bottles. There will also be a US version in 750ml bottles available this summer.