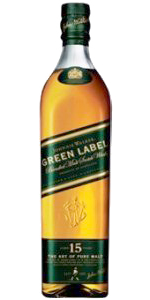 March 12, 2015 – The mysterious reappearance of Johnnie Walker Green Label at North American retailers in recent weeks has been solved. Sharp-eyed whisky lovers in the US and Canada noticed new stocks of Green Label appearing at retailers starting in mid-February, but no one at Diageo was able (or willing) to explain at the time whether the bottles were new or previously unsold stocks that had been sitting in a warehouse.
Diageo has started responding to inquiries through the official Johnnie Walker US Twitter account, and posted this notice in response to our tweets trying to answer questions from listeners.

A Diageo North America spokesman says Green Label is not returning permanently to the Johnnie Walker range, but is also not a limited-edition release. It will be available through 2015, with a decision to be made on future availability later this year based on sales. While Diageo executives had said in 2012 that Green Label production was to be discontinued, it apparently has still been produced for sale in Taiwan and a small number of other markets. The decision to bring it back in North America was based on an allocation of Green Label becoming available, along with consumer and trade demand as well as the brand's 10th anniversary.
The 15-year-old blended malt has been the only one of its kind in Diageo's Scotch Whisky portfolio since its introduction in 2005. Speculation over the reappearance was rampant on social media in recent weeks, with some retailers telling us they had been advised that the new stocks had been "found", while others questioned whether the new stocks had been previously for sale elsewhere and relabeled for sale in North America. That option was highly unlikely since Green Label bottled for sale outside of North America was packaged in 700ml bottles, while the US market requires 750ml bottles and Canada allows either size.
Editor's note: This story was updated on March 21 with additional information. 
Links: Johnnie Walker