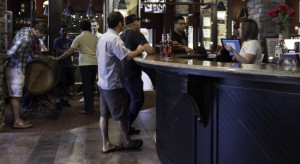 April 11, 2016 – Kentucky Governor Matt Bevin has signed the first major piece of Bourbon-related legislation to reach his desk since taking office last December, clearing the way for an expansion of liquor sales at the state's distilleries. The bill approved by state lawmakers allows distilleries to sell cocktails and their own product by the drink for the first time, while also increasing the amount of sample sizes and bottle sales available to a visitor in a single day.
Kentucky Distillers Association President Eric Gregory described the bill as a "game-changer" for the industry. "It's really going to leverage the Kentucky Bourbon boom and allow our distilleries – both large and small – to really reach their potential as major Napa Valley experiences," he said in a telephone interview. While Gov. Bevin has already signed the bill, a formal signing ceremony is being scheduled with leaders of the state's whiskey industry expected to be on hand.
The legislation also allows for precinct-level "wet or dry" elections to legalize liquor sales at distilleries located in "dry" counties, instead of the current mandate for a county-wide referendum. Currently, 79 of the state's 120 counties either ban alcohol sales county-wide or limit it to cities or precincts that have voted to allow them, with precinct-level elections allowed for golf courses, farm wineries, and historic preservation sites. "A lot of the legislative leaders are from Eastern Kentucky, and that's really where the predominantly dry counties are," Gregory said. "With the demise of the coal industry there, they were looking for anything they could do to help bring those communities back to life, and we've been working hard with the Governor's office and Congressman (Hal) Rogers's office to figure out how we can expand tourism opportunities there."
Listen to Mark Gillespie's interview with Eric Gregory:

The new law becomes effective July 1, but it should not be seen as a sign that distilleries will be competing with local bars for business. Gregory expects distillers will expand their current tours and educational programs to include cocktail mixing and pairing cocktails with food. The new law is likely to benefit many of the new Bourbon-related visitor experiences in downtown Louisville, including the Evan Williams Bourbon Experience and the future Old Forester Distillery and Michter's Distillery projects currently being built along Main Street's "Whiskey Row."
The legislation also increases the amount one adult consumer can purchase in a single day at a distillery shop to 4.5 liters, the equivalent of 6 750-milliliter bottles, from the current 3-liter limit. Consumers will also be allowed to sample up to 1.75 ounces of whiskey during a distillery visit, up from the current one-ounce limit.