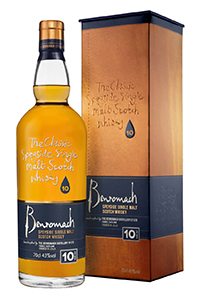 April 4, 2014 – Gordon & MacPhail's Benromach single malt has been posting strong sales increases over the last several years, with an increase of 29% last year on the expansion to 42 export markets worldwide. Now, the Speyside distillery's 10-year-old expression is getting a facelift with new packaging and labeling that combines the distillery's heritage with contemporary design elements.
Gordon & MacPhail managing director Michael Urquhart said in a news release that the new packaging will be rolled out to retailers starting this month.  The new bottle is inspired by the shape of Benromach's stills, while the foil on the labels is based on an image of the surface of the copper stills.
"We wanted our new packaging to reflect the way we make our whisky. Our 10yo has a classic pre-1960s character which arises from the sum of all its parts used to create it. Every cask is hand-filled, hand weighed and hand-stamped before maturing in our traditional dunnage warehouses. The new packaging reflects that approach with its hand-cut lettering and its classic heritage colours. Yet at the same time the packaging provides a contemporary, sophisticated, luxury feel that looks to the future of a malt whisky that is very much a growing brand." 
As reported previously on WhiskyCast, the distillery is also getting a new look with the addition of additional maturation warehouses and a third distiller, expanding the on-site distilling team to three. The Benromach web site is also being updated and expanded as well.
Links: Benromach