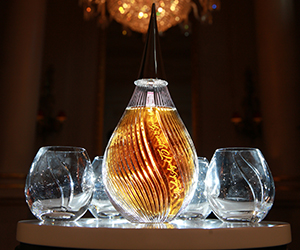 September 2, 2015 – There's a new title-holder in the category of "world's oldest whisky." Gordon & MacPhail unveiled its Mortlach 75 Years Old Generations single cask bottling today at a ceremony in London's Royal Opera House, and after 75 years of maturation in a first-fill ex-Sherry butt, it is now the oldest whisky ever bottled for sale. The previous record had been the family-owned company's 70-year-old Glenlivet Generations 1940 bottling released in 2011, which was just months older than the 1938 Mortlach that launched the Generations range in 2010.
Members of the Urquhart family took part in the ceremony, following in the footsteps of the family's patriarch, John Urquhart. As the first generation of the family to join Gordon & MacPhail, John Urquhart arranged for the ex-Sherry butt to be filled at Mortlach on November 17, 1939 as World War II was beginning to take over Europe. His great-grandson, Stephen Rankin, presented the unique bottling in London, noting that "we've been anticipating this moment for a long time.  Having been nurtured and cared for by four generations of our family it gives us great pleasure to release this unique and incredibly rare single malt."
The Mortlach 75 Years Old comes in an Aniline leather travel bag along with two crystal glasses and the book Seven Nights with Mortlach, jointly written by Charles Maclean and Alexander McCall Smith. Only 100 decanters will be available at a recommended retail price of £20,000 ($30,600 USD), though pricing may vary slightly by market.
Links: Gordon & MacPhail