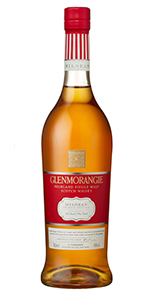 January 19, 2016 – Milsean is the Scots Gaelic word for "sweet things," and also the name for Glenmorangie's seventh annual release in its Private Edition series. The Highland single malt was finished in re-charred French Oak Portuguese wine casks after originally being matured in ex-Bourbon casks.
"Retoasting on its own is quite routine, but normally you would have the inside layer of the barrel scraped off, and then it would go to the cooperage to be retoasted," according to Glenmorangie's Dr. Bill Lumsden. "It's known as de-char, re-char…but for these barrels, we actually had the toasting process done while there was still the moistened residue of the wine in the casks, and effectively, the heat caramelized all of the sugars out of the wine into the wood and we have leached them out during the finishing process," he said in a telephone interview. The result is an unusually sweet whisky accentuated by candy-striped packaging.
Listen to Mark Gillespie's interview with Dr. Bill Lumsden:

Lumsden had originally planned to let the whisky mature in the Portuguese wine casks for five years, but cut that to around two and a half years. "After about 18 months, it got so much flavor that we were tasting the samples on a monthly basis, and we got to two and a half years and thought 'right, that's it…I think now I'm in severe danger of overegging the pudding," he said.
Glenmorangie Milsean is available now at specialist whisky retailers in the UK and Europe with a recommended retail price of £75.99 GBP ($108 USD), and will be available soon in the United States.
Tasting notes will be available soon at the WhiskyCast web site.
Links: Glenmorangie