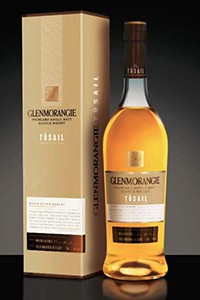 January 21, 2015 – Glenmorangie has revived a once-popular strain of barley for use in its 2015 Private Edition series release. Tùsail will be the sixth edition in the series, which began in 2010 with Sonnalta PX and has continued each year through last year's Companta. The name comes from the Scots Gaelic word for "initial" or "original".
The whisky was produced using Maris Otter barley, which was widely used in the 1960's but later fell out of favor as brewers and distillers switched to more efficient barley strains. Maris Otter was at risk of becoming wiped out by cross-pollination with other barley strains and the use of uncertified seeds in the 1980s, but was preserved and purified by seed merchants to prevent its extinction. Glenmorangie's Dr. Bill Lumsden ordered a batch of Maris Otter several years ago and arranged to have it malted using a traditional malting floor instead of the conventional commercial drum maltings.
Tùsail carries no age statement, and has been bottled at 46% ABV. It will carry a recommended retail price of £75.99 GBP ($114 USD).
Links: Glenmorangie