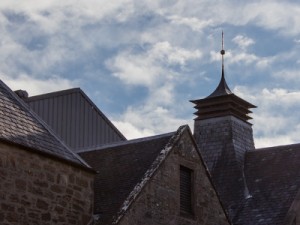 November 20, 2013 – Glenmorangie's expansion plans have been criticized by Highland Council members, who accused the company of starting construction on an access road for construction vehicles without permission. A Council committee approved plans for the access road Tuesday, but blasted Glenmorangie for building a temporary road before receiving approval. The road was created to separate construction traffic for four new maturation warehouses from distillery staff and visitor traffic entering Glenmorangie off the A9 highway.
The Ross-Shire Journal reports Glenmorangie engineering manager Charles McEwan was equally critical of Council members, and maintained that the company has been working with local and regional leaders to comply with planning guidelines. The Journal's report quotes McEwan as defending the company's actions:
"Throughout the process we have worked with Highland Council to ensure that we have followed planning guidelines," he said. "Within these guidelines it is permissible to construct a temporary road to allow construction traffic to access our warehouse construction site, ahead of full permission being granted for the secondary access road. This temporary road is necessary to divert all industrial traffic away from the main distillery and away from staff and visitor traffic. Planning permission was unanimously granted to build a permanent secondary access road within the distillery to address a number of access and safety issues at the site."
McEwan indicated that Transport Scotland, which has authority over the A9, had no objections to the temporary road. Highland Council members still have their own objections, and plan to demand that the distillery improve its communications with them in the future.
Links: Glenmorangie | Highland Council