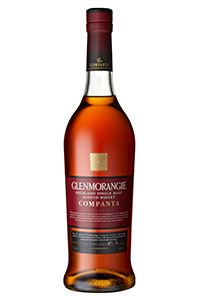 January 9, 2014 – Glenmorangie has released the fifth expression in its Private Edition range of single malts. Companta is the third in the series to use wine casks for finishing, with a combination of Burgundy wine casks from Clos de Tart and fortified wine from Côtes du Rhône.
Glenmorangie's Dr. Bill Lumsden first used wine casks in the Private Edition range with the 2010 release of Sonnalta PX (Pedro Ximenez Sherry), then in the 2012 release of Artein with Sassicaia wine casks from Tuscany. The 2011 Finealta recreated whisky from Glenmorangie's history using old batting recipes, and the 2013 release of Ealanta used virgin American Oak casks. In a news release, Lumsden cited the craftsmanship of the winemakers behind the Grand Cru Clos de Tart wines in his choice of those casks for Companta.
"As a true wine aficionado, some of my most memorable visits have been to Burgundy, where the dedication and attention to detail that goes into their craft never ceases to amaze me. The smaller vineyards of the region don't seem to worry about yields, costs, or timings. They work tirelessly, simply to produce the very best wine. In the same spirit as Glenmorangie, they stop at nothing in the pursuit of perfection."
Companta is the Scottish Gaelic word for "friendship", and the whisky is bottled at 46% ABV with no chill-filtering. It will be available at whisky specialist retailers worldwide with a recommended retail price of £69.99 ($115 USD).
Tasting notes for Glenmorangie Companta will be available soon.
Links: Glenmorangie