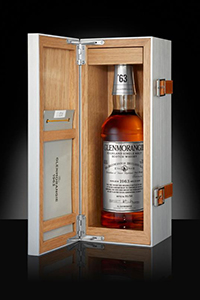 December 5, 2013 – Online bidding has reached $3,250 USD for one of the 50 rare bottles of Glenmorangie 1963 uncovered recently in one of the company's warehouses, with the proceeds to go to American Forests. The group focuses on preserving and expanding forest lands in the U.S., and has planted more than 40 million trees since 1990.
The whisky was first released in 1987, but 50 bottles were put away in a corner of the warehouse and forgotten about, according to Glenmorangie's David Blackmore. "I think they probably came to our attention when we moved facilities from our old Broxburn site to our new bottling site," he told WhiskyCast's Mark Gillespie in an interview. "People might not believe that we find this stuff, but believe me, over the years we maybe haven't been quite as organized as you might think." The whisky is believed to be one of the first "finished" whiskies, having been finished in an Oloroso Sherry cask for almost two years after its original maturation in ex-Bourbon casks. The 50 bottles were re-filled into new bottles with solid silver stoppers, collars, and labels,  along with a bespoke box designed to look like a time capsule. While most of the 50 bottles have already been sold, a few remain available at an estimated price of $2,750 USD.
American Forests was chosen as the charity to benefit from the online auction through Charitybuzz. The organization has also worked on conservation projects in more than 30 other countries, and encourages sustainable forestry management as well as expanding forest lands. "It's apt considering that we rely so much on American Oak for our products," Blackmore said.
Update: The auction ended on December 13, 2013 with a high bid of $4,050. 
Links: Glenmorangie 1963 Auction | Glenmorangie | American Forests