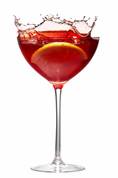 July 23, 2014 – Glenfiddich's PR firm sent around this recipe for the classic Blood & Sand cocktail around for "National Scotch Whisky Day." While we don't need a special day dedicated to Scotch, the cocktail itself dates back to 1922 and Rudolph Valentino's movie "Blood & Sand" during the heart of the Prohibition era.
1 part Glenfiddich 15 Year Old Scotch Whisky
1 part Cherry Herring Liqueur
1 part Lillet Rouge (or other Sweet Vermouth)
1 part fresh orange juice
1 Orange half-moon slice
Combine all ingredients in a mixing glass and stir with ice. Pour over fresh ice in a rocks glass and garnish with an orange half-moon slice.