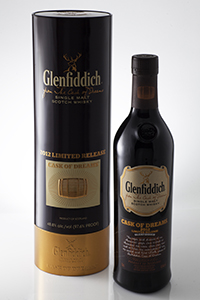 June 5, 2013 – Glenfiddich is releasing its 2013 Cask of Dreams limited edition bottling in the U.S. market, following a year-long competition during 2012 to encourage whisky lovers to share their dreams. While dreams submitted through the Glenfiddich web site have been written on the actual casks used in producing the 2013 bottling, 24 winners were selected to have their names and dreams featured on the Cask of Dreams bottle.
One lucky winner, identified only as "Trent", won $15,000 to achieve his dream of heli-skiing in Alaska's Chugach Mountain range. The Chugach range near Anchorage is home to Alyeska Resort, along with some of the most extreme skiing territory in North America, and a number of U.S. Olympic Ski Team members have come from the area, including 1994 gold and silver medalist Tommy Moe. (Editor's note: Mark skied at Alyeska once while living in Anchorage during the 90's, but his exploits were limited to the beginner's runs.) 
The original Cask of Dreams concept was created two years ago by Glenfiddich's U.S. team to honor the legacy of William Grant, who founded Glenfiddich in 1887 with a dream of creating the "best dram in the valley". The 2013 bottling was created by Malt Master Brian Kinsman from a series of American Oak casks, then finished in virgin American Oak casks. 6,600 bottles will be available at selected U.S. retailers with a suggested price of $99.
Links: Glenfiddich