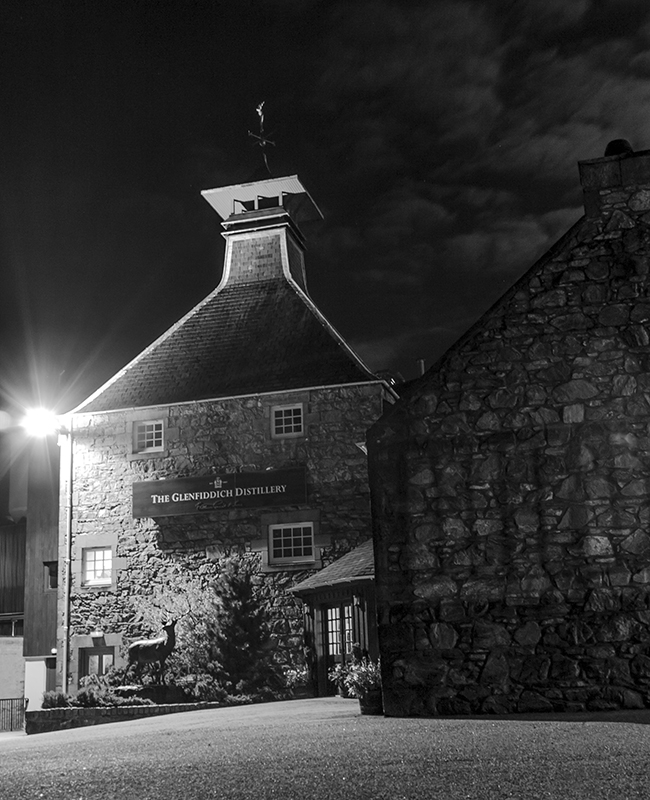 December 3, 2015 – Earlier this year, Glenfiddich lost its title as the world's best-selling single malt Scotch whisky to The Glenlivet. Now, William Grant & Sons is fighting to reclaim its place with plans for a massive expansion at the Dufftown distillery. The project will include a new still house, tun rooms, and grain silos, but no price tag or timetable has been announced. It's expected to be constructed between the existing distillery and the A941 road leading into Dufftown from Craigellachie, and will require the demolition of one existing warehouse.
Moray Council members approved the project despite criticism of the plans from council member Fiona Murdoch. According to the Press & Journal, Murdoch wanted to force the distillery to include a footpath by the new facilities to make it safer for tourists to photograph the site instead of stopping along the side of the road.
"You don't know how these whisky nutters work, when they visit they want to photograph everything – especially anything that's new. Not having a path for them is just asking for trouble," Murdoch was quoted as saying. It should be noted that an existing footpath already runs between the A941 and the railroad tracks next to the Glenfiddich campus, which also includes the long-closed Convalmore distillery site. Council members were told that adding a "footpath to nowhere" was not within their power, and according to the paper, council member Chris Tuke asked Murdoch to use the term "tourists" instead of "nutters." WhiskyCast has requested an interview with Ms. Murdoch.
This is the Moray Council's second major whisky-related vote of the week. Earlier, the council signed off on Edrington's plans to spend an additional £100 million GBP ($151 million USD) on its expansion at The Macallan. The new project will add an on-site cooperage and ten additional maturation warehouses needed to handle increased output when the new distillery comes on line in 2017. The expansion was approved over the objections of neighbors who claim the construction will create too much noise and the new warehouses will block their view of the nearby mountains.
Links: Glenfiddich | The Macallan