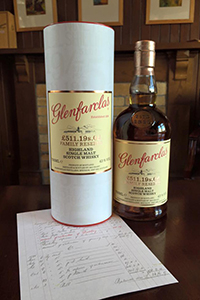 June 8, 2015 – Six generations of Grants have kept the family's tradition alive at Speyside's Glenfarclas Distillery since John Grant bought the distillery 150 years ago today. The price: a whopping £511 pounds and 19 shillings. Adjusted for inflation over time, that would be around £8,000 ($11,950 USD) today…less than what it might cost to buy a single cask of Glenfarclas from the distillery.
Today, the 5th and 6th generations of the family, managing director John Grant and global sales director George Grant, marked the anniversary with a celebration for the distillery's staff…as well as a limited edition release that will be available later this month. In addition, they filled 10 first-fill butts and 10 first-fill hogsheads that will be laid down for future anniversary bottlings. George Grant also turned down an offer of £1,000 for the distillery from an American wag who noted that given the original price, his offer was a "fair return" on the original investment.
In a telephone interview, George Grant described it as something of a strange day, noting that they celebrated the distillery's 175th anniversary just four years ago. "Although it's not a big anniversary that we're properly celebrating like we did for the 175th, it's a very important anniversary for my family," he said. "For the 175th, we did a couple of bottlings called the 175th anniversary, so we couldn't come out this year and do a 150th anniversary bottling, so we brought out a Family Reserve bottling called £511.19s.0d."
Listen to Mark Gillespie's interview with George Grant:

The Glenfarclas £511.19s.0d Family Reserve comes from predominantly first-fill ex-Sherry butts, in line with the distillery's tradition of using ex-Sherry casks for maturation. It's bottled at 43% ABV, and will be available starting June 22 worldwide, except for the United States, and will carry a recommended retail price of around £90 GBP ($138 USD).
Links: Glenfarclas