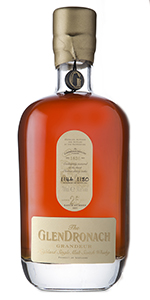 January 19, 2016 – If 7 is a lucky number, then GlenDronach's latest batch of Grandeur may hit the jackpot for lucky whisky connoisseurs. The Highlands distillery is releasing batch #7 of the 25-year-old single malt, with just 1,180 bottles available worldwide.
The whisky spent its entire maturation in ex-Oloroso Sherry casks, and has been bottled at 50.6% ABV. GlenDronach's Billy Walker selected some of the distillery's oldest casks to use in this batch, which will be available at whisky specialist shops in Europe and other key markets. Pricing information has not been announced, and will vary by market.
At the other end of the age range, the distillery is also out with a new 8-year-old single malt known as "The Hielan'." It's one of the youngest whiskies with an age statement on the market, and GlenDronach master blender Stewart Buchanan notes that there were initially some concerns about releasing a single malt with a relatively young age statement. "We were wondering how the market would accept that, but actually, we got some fantastic feedback," he said during an interview at the Victoria Whisky Festival. "Going back to the previous owners…they had an 8-year-old in their lineup back during the 60's, so we're actually just getting back to that old 60's lineup."
The Hielan' (pronounced "hee-lann") is matured in a combination of ex-Bourbon and Sherry casks, and bottled at 46% ABV with no chill-filtering.
Links: GlenDronach