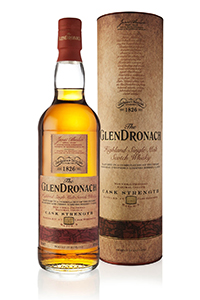 November 12, 2013 – GlenDronach is following up on the success of two cask-strength releases over the past 12 months with a third release. As with the previous two editions, this one used a combination of Oloroso and Pedro Ximenez sherry casks in its maturation.
The whisky was bottled at 54.9% ABV with no chill-filtering and no caramel coloring added. The combination of fruit and toffee notes from the Oloroso casks with spicy influences from the Pedro Ximenez casks produced what GlenDronach's Alistair Walker described in a news release as a dram bursting with beauty:
"This is another GlenDronach gem where spices mingle with the richness of the fruit to give a hugely satisfying malt to be savoured slowly during special, quiet moments. We'll continue to release our cask strength batches as long as this wonderful expression remains popular with consumers."
No details on market availability or pricing were announced.
Links: GlenDronach