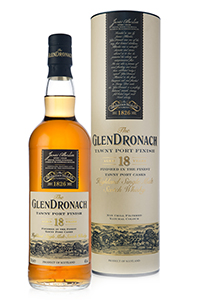 August 4, 2014 – GlenDronach is replacing its highly-regarded 15-year-old Tawny Port Finish single malt Scotch with a new 18-year-old version. The whisky is first matured in European Oak casks before being transferred to Tawny Port wine casks for final maturation.
In a news release, GlenDronach sales director Alistair Walker noted the success of the distillery's range of finished malts since the first expression was released four years ago. "We've carefully selected whisky that has been gently maturing in lighter casks so that aficionados experience the full impact of the Tawny port cask," he said. "The very pleasing result contributes extra depth and concentrated stewed fruit flavours. It's another outstanding whisky that we're delighted to add to our portfolio."
The new expression is bottled at 46% ABV. Pricing and market availability was not specified.
Links: GlenDronach